India Consortium on Mental illness And Genetics In the Clinic
About US
It is estimated that nearly 200 million persons living in India are affected by a mental illness (National Mental Health Survey, The Lancet, 2020). These illnesses have exceptionally high morbidity, mortality, and personal/societal costs. Understanding the pathological basis of these illnesses has proved to be very challenging. Several worldwide initiatives have attempted to study the genetic basis of these syndrome.
The Psychiatric Genomics Consortium (https://www.med.unc.edu/pgc/) (abbreviated PGC) is an international consortium of scientists dedicated to conducting meta- and mega-analyses of genomic-wide genetic data, with a focus on psychiatric disorders. It is the largest psychiatric consortium ever created, including over 800 researchers from 38 countries as of 2019. Its goal is to generate information about the genetics of psychiatric conditions that will be "actionable", that is, "genetic findings whose biological implications can be used to improve diagnosis, develop rational therapeutics, and craft mechanistic approaches to primary prevention"
The Indian Consortium on Mental Illness and Genetics in the Clinic (IC-MAGIC) is a collaborative network of psychiatrists and scientists across India, who aim to investigate the genetic architecture of severe mental illnesses in people of Indian descent, a population that has been under-represented in existing genetics studies.
IC-MAGIC, with the guidance of experts from the PGC, aims to establish the expertise and infrastructure to conduct large-scale genetic studies of severe mental illnesses across the sub-continent of India using state of the art methods, and it will leverage this infrastructure to carry out a first of its kind genetics study of schizophrenia and bipolar disorder at a scale that modern genetic studies require and not previously feasible in India.
Map of Collaborating Centers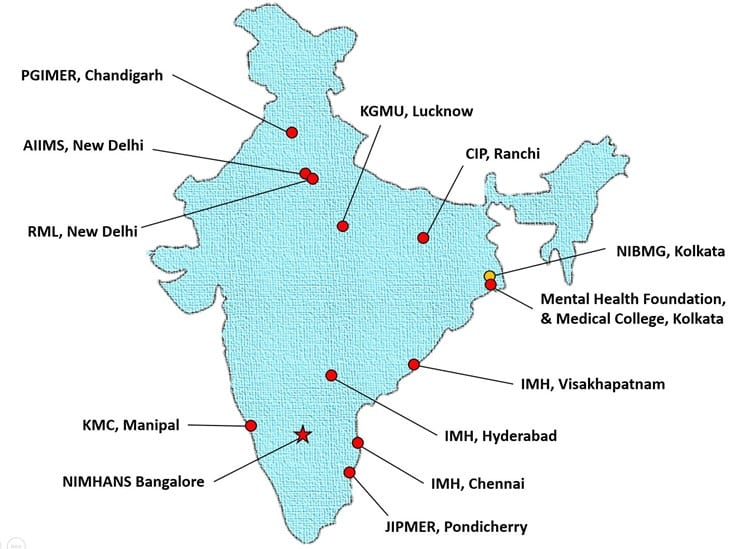 Previous/ Ongoing Research Collaborations
c-VEDA  (Consortium on Vulnerability to Externalizing Disorders & Addictions)
An ICMR - MRC grant and its main papers
Comprises of  >14.000 participants aged 0-25 years who have been genotyped
Participants include those with high risk for substance misuse and population-based individuals from different social and environmental (rural and urban) backgrounds.
Collaborating Sites:
NIMHANS, Bangalore
RIMS, Imphal, Manipur
Regional Occupational Health Centre (Eastern), Kolkata, West Bengal
Rishi Valley Rural Health Centre, Rishi Valley, Andhra Pradesh
CSI Holdsworth Memorial Hospital, Mysore, Karnataka
St. John's Research Institute, Bangalore, Karnataka
ADBS (Accelerator Program for Discovery in Brain Disorders using Stem Cells
Funded by Department of Biotechnology, Government of India
Study of multiplex families with severe mental illnesses
Whole exome sequencing for 300 multiplex-affected families and population controls
FAQs / Contact Us
1. How do I join IC-MAGIC as a clinical investigator?
We are currently at a stage where we plan to write up research proposals to avail grants. We plan to study major mental illnesses such as schizophrenia, bipolar disorder and obsessive-compulsive disorder, and the focus of our initial projects is to collect biological samples (blood/DNA) of patients with these disorders. If you are a psychiatrist (clinician/researcher) and feel that you will be able to help us reach out to a sizeable number of patients for participation in such research, we welcome you to be part of the consortium. You may contact Dr Biju Viswanath (bijuv1@gmail.com) or any of the co-investigators for this.
2. I want to get trained in psychiatric genetics data analysis, what can I do?
One of the key aims of the IC-MAGIC consortium is to train clinicians & researchers around India in the techniques of analysis large genetics data. We have collaborators from the Psychiatric Genomics Consortium who are leading experts in this field, and will be planning training programs with them. Whenever such an event is planned, we will update the same in the website.
3. How do I get access to the datasets?
Data from the previously conducted studies on mental illnesses by the investigators who are part of the IC-MAGIC are available at www.adbsnihans.org, and http://cveda.org/. You can contact the investigators of these studies for more information.